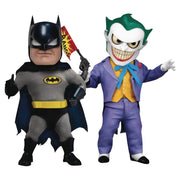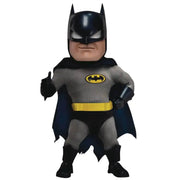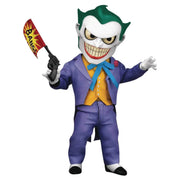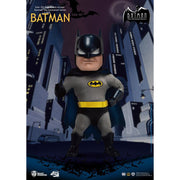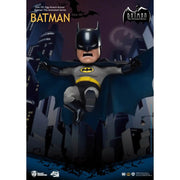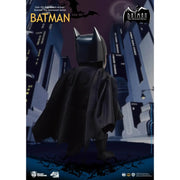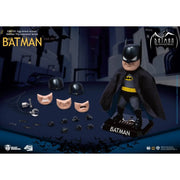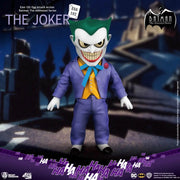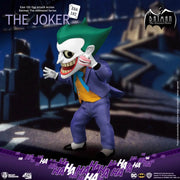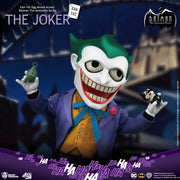 Beast Kingdom Batman The Animated Series Batman and The Joker Action Figure Set of 2
Regular Price

$129.00
Sale Price

$129.00

Regular Price
Unit price

(

per

)
Tax included.
Shipping
calculated at checkout.
Product Info
The Dark Knight returns, this time with a faithful reproduction of one of the world's most celebrated animations: Batman: The Animated Series! A slightly more serious take on our caped crusader, this film-noir style series pits Batman against some of his most famous adversaries!Taiwan's Beast Kingdom proudly presents a new range of 6-inch, highly posable action figures based on DC world of superheroes. Egg Attack Action's first launch is Batman from the popular 1992 animated series. Using real cloth and an illuminated eye function, this version of Batman is a collectors dream.The series is praised for its complex and dark tones focusing on some pretty series topics. Taking inspiration from the Tim Burton live action film of the late 80's, the show creates an otherworldly, gothic tone, a perfect fit for a this reproduction of the tall, mysterious Dark Knight!With a variety of accessories, including eye masks, hands, grappling gun and signature weapons, this EAA Batman action figure is sure to bring home a serious case of 'Caped-crusader' envy for anyone who sees it.Did we mention Batman's most famous villain is also in the works? A Batman release can't be complete without his arch-nemesis: The Joker! Who is looking forward to his appearance?
Just as there is light, there is always darkness, and just as there is Batman, there is always a Joker. The Ying to Batman's Yang, the Clown Prince of Darkness has forever been in the shadows of the caped crusaders fight for the soul of Gotham!
A sinister, menacing figure, The Joker has had many iterations in the nearly 70 years he's graced our comics and screens, and whilst he once was an ordinary man, his origins have been mostly shrouded in mystery.With the many iterations, the Animated Series is often considered one of the best comic-book style animations of the Batman world ever made, and with Mark Hamill's excellent performance as the Joker, a generation was introduced to a dark and exciting version of the character.
Following the release of the EAA-Batman, Beast Kingdom is proud to introduce the Egg Attack Action Joker from Batman the Animated Series.Befitting of any crazed villain, the Joker is seen with his classic purple suite, orange vest, bow tie and 3 replaceable facial expressions fit for any occasion! Collectors can now reenact any of his signature ultra-creepy expressions as well as having the ability to pose him with a high degree of articulation.
The figure also packs a series of accessories so the Joker is ready for any situation with Batman, including four pairs of replicable hands, a clown grenade to fight off his enemies, a Batman Doll for those lonely clown nights, a mutated clown fish, clown dentures and the infamous pistol that shoots out a bang to scare any foe! With a great selection of accessories, high mobility and the use of real cloth for clothing, make sure you don't miss out on this Joker figure!