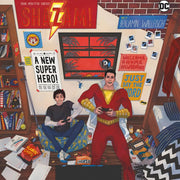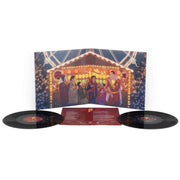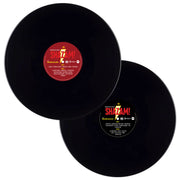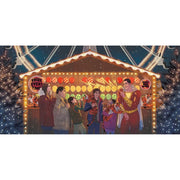 Mondo! Shazam Original Motion Picture Soundtrack Vinyl Double LP
Regular Price

$39.00
Sale Price

$39.00

Regular Price

$65.00
Unit price

(

per

)
Tax included.
Shipping
calculated at checkout.
Product Info
Mondo, in partnership with WaterTower Music is proud to present the premiere vinyl pressing of Benjamin Wallfisch's triumphant score for the 2019 superhero comedy SHAZAM!
Ben Wallfisch is one of the most incredible composers working today. He is a master of genre, but also impossible to pin down. His work on BLADE RUNNER 2049 is a masterclass in modern sci-fi. He redefined the sound of terror with his scores for IT CHAPTER 1 & IT CHAPTER 2 and last year's INVISIBLE MAN. To round the trifecta, though, he also has a playful side, which is no more present than in his ode to Williams and Goldsmith in SHAZAM! Just like the film, it is an immediate burst of energy, excitement and full of 80's filmmaking sincerity.
Featuring all-new original artwork by Cathy Kwan and liner notes by composer Benjamin Wallfisch.
Composed by Benjamin Wallfisch
Artwork by Cathy Kwan
Pressed on 180 Gram Black Vinyl
Track Listing –
Side A
1. SHAZAM! 3:59
2. The Consul Of Wizards 3:01
3. Seeking Spell 2:34
4. Compass 3:27
5. Seven Symbols 4:17
Side B
6. The Rock Of Eternity 4:17
7. Subway Chase 0:45
8. It's You Or No One 5:00
9. Dude, You're Stacked 1:19
10. This Is Power 2:32
11. Bus Rescue 2:29
12. You're Like A Bad Guy, Right? 1:17
13. Them's Street Rules 0:48
14. Superman It 0:56
Side C
15. Super Villain 1:40
16. You Might Need It More Than Me 5:39
17. Come Home Billy 3:03
18. Give Me Your Power 1:42
19. His Name Is 2:46
20. Sentimental Nonsense 1:54
21. Run! 2:13
22. Play Time's Over 1:49
Side D
23. All Hands On Deck 2:05
24. I Can Fly! 2:14
25. Fight Flight 3:32
26. Finale 4:11
27. We've Got A Lair 1:31
28. I'm Home 0:53
29. I Name The Gods 1:33
$22.00
$45.00
(Save $23.00)
$65.00
$77.00
(Save $12.00)
$129.00
$193.00
(Save $64.00)
$52.00
$90.00
(Save $38.00)
$129.00
$257.00
(Save $128.00)